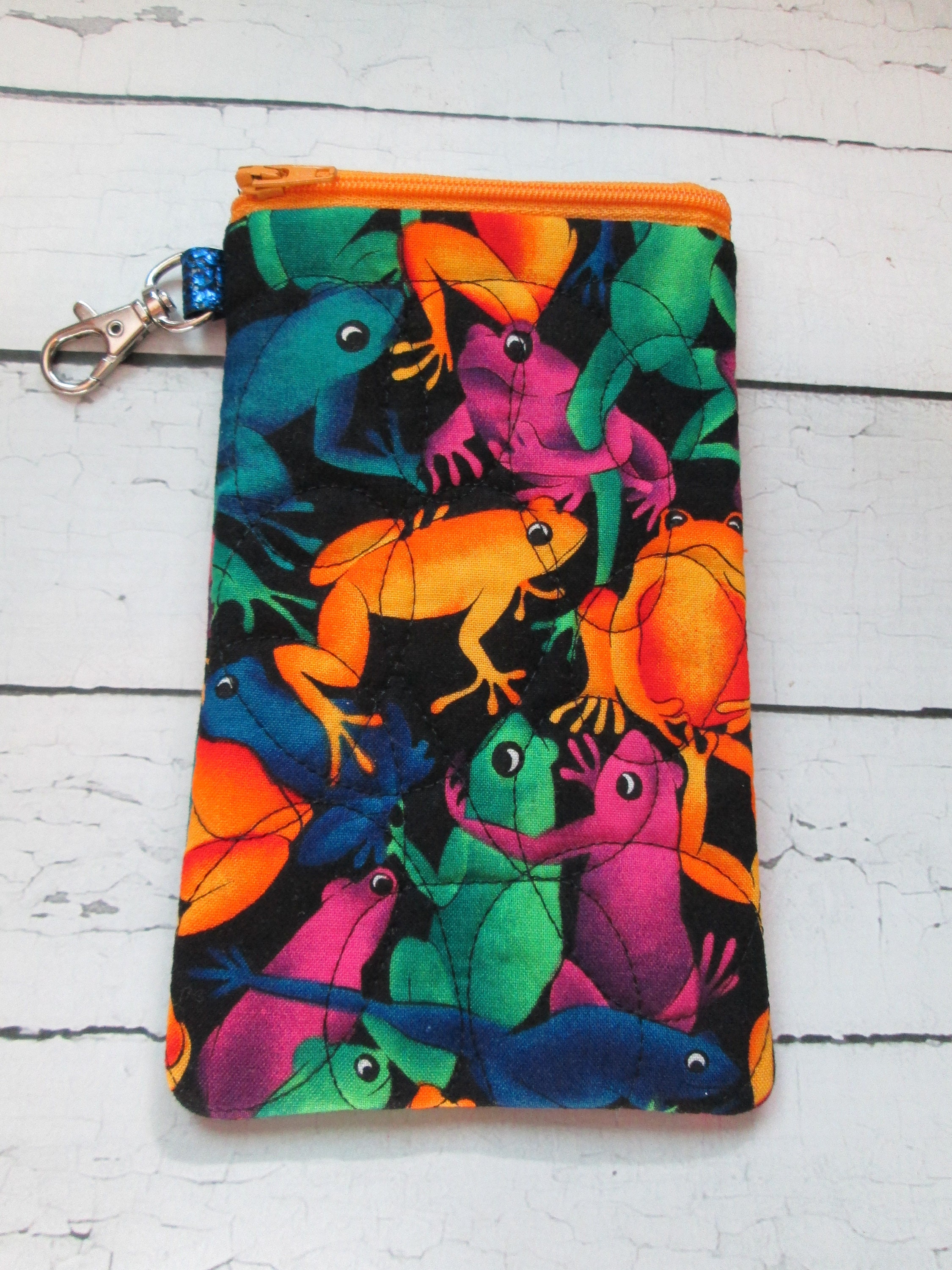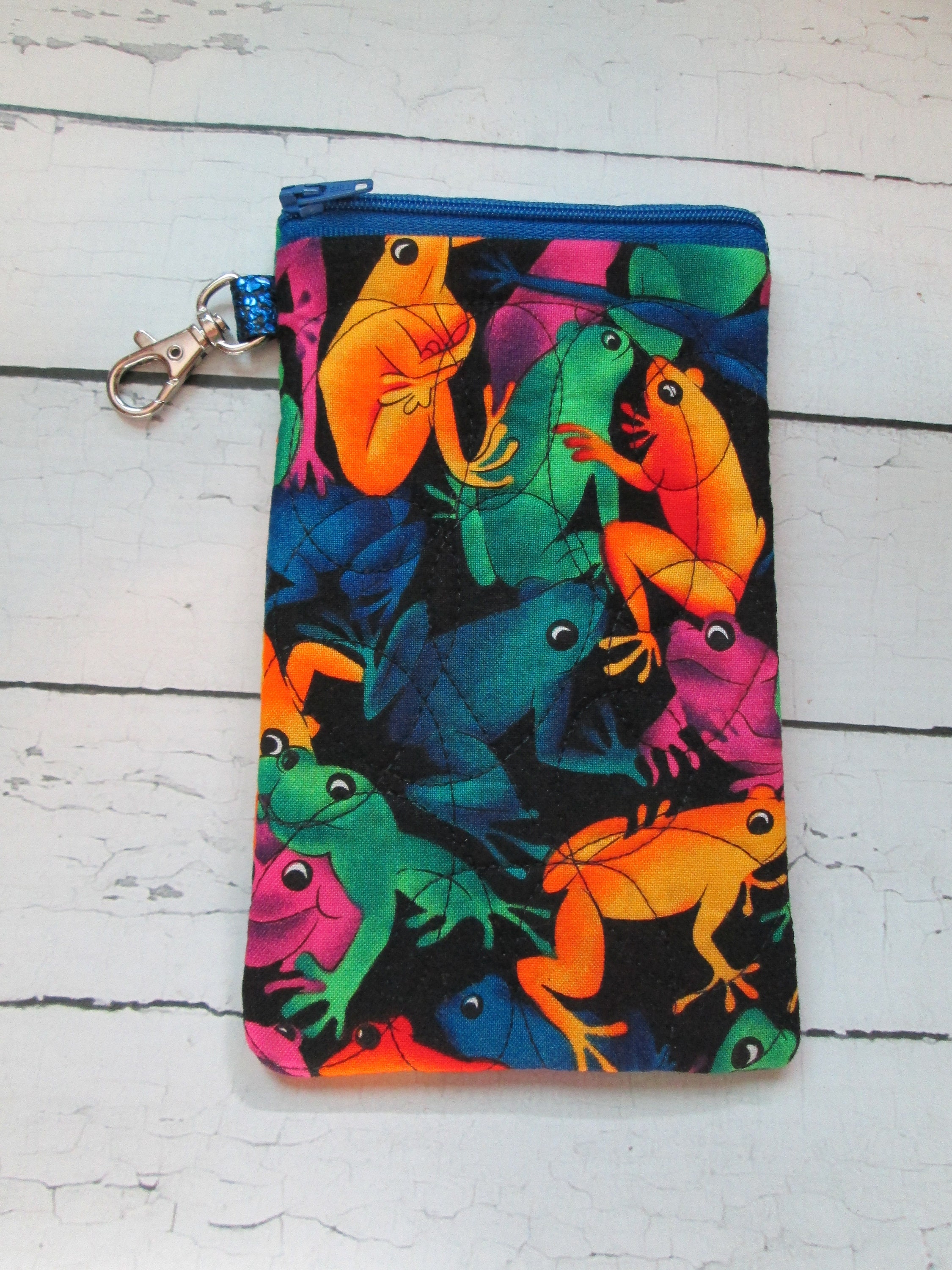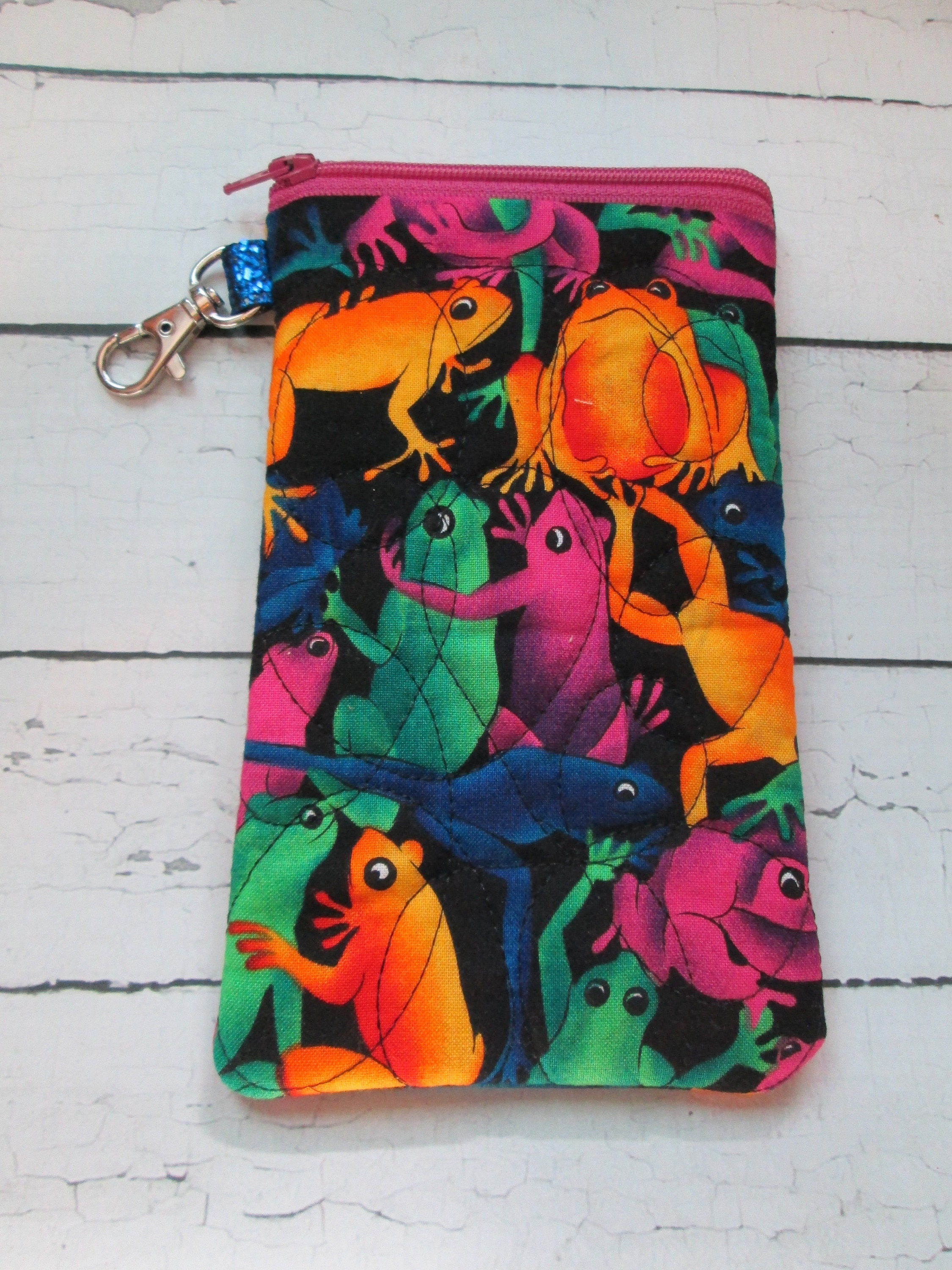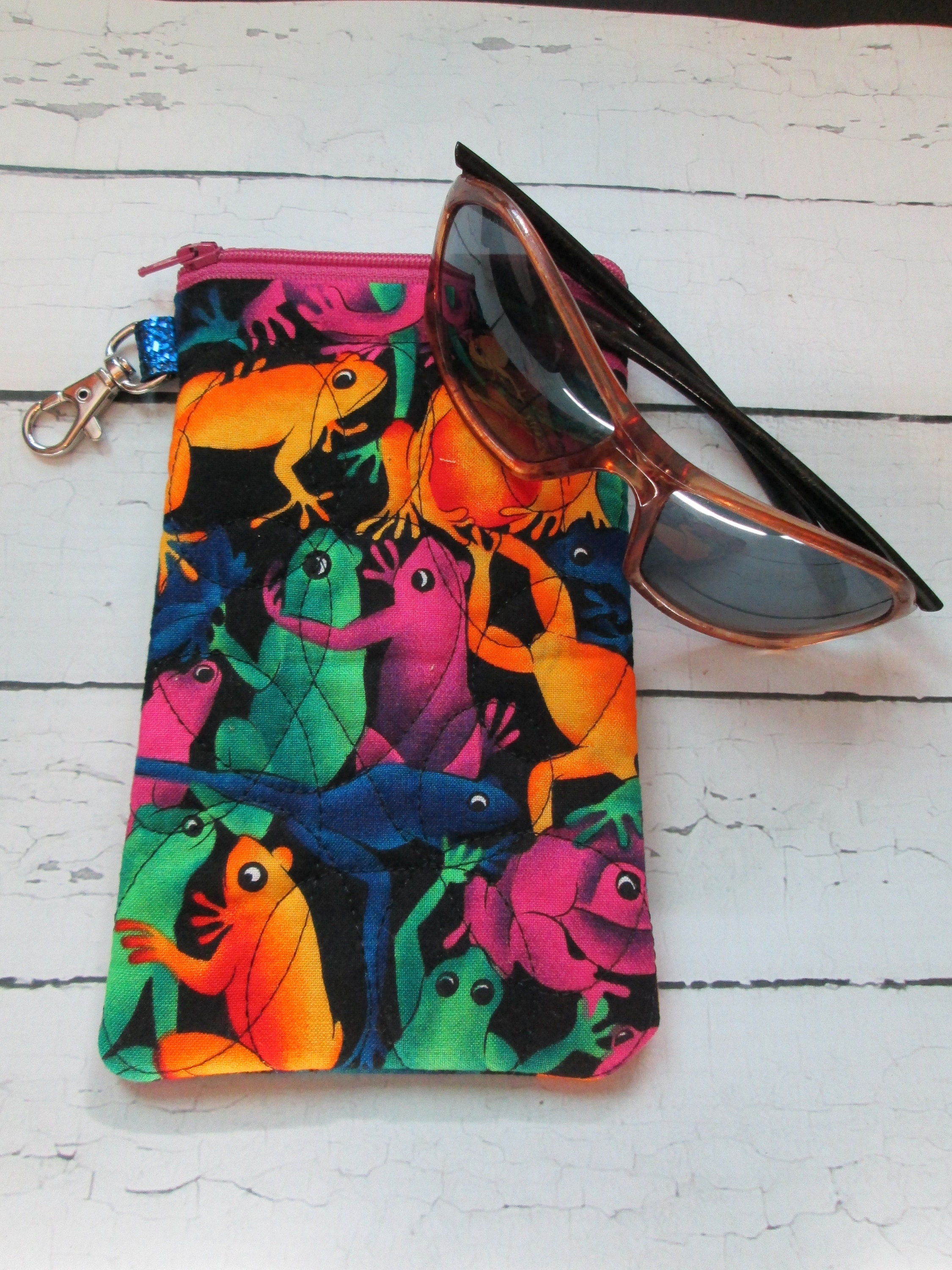 This is a listing for a Quilted, Zippered Case. Suitable for Sunglasses, Glasses, Cell Phones, Passports and much more.

Attaches to luggage and bags with a handy lobster clasp.

Size: 4.50 x 7.0 inches Roomy Size

Zipper: Each zipper is a different colors - 1 - hot orange, 1- Royal Blue, 1- Violet
Tab - Royal Blue sparkly glitter vinyl on all
Hardware - Silver

Lining fabric is a matching print

Ready to Ship

*Glasses Not Included
Payments
Prices do not include shipping and handling.
Prices are subject to change.
BigBlackDogDesigns is not responsible for any print errors.
7% sales tax will be charged on shipments made within the state of South Carolina.

If an e-check is used to pay for order, processing will not be made until the e-check is received.
Shipping from United States
The customer is RESPONSIBLE to look at shipping times for their order and /or items. A ship by date is contained on the receipt the customer receives in their email.. Customer pays shipping and handling on all orders. Shipping and Handling costs are based on :USPS shipping rates,insurance for 1st class USPS , packaging costs, printer ink, printer paper and any other material for packaging and the cost of a person to package and ship the order. VAT charges are not included for any international orders. Payment of those charges are up to the customer.

Production varies from one applique to another, so please review the production information to see the processing time under each product photo and in the checkout screen.. Your order will NOT be cancelled due to turn around/production times. NO exceptions. **Production to shipment for our appliques varies, so please read each listing description/and or shipping information under each photo. Some fast ship products have shipping info in the title.

Your scheduled shipment date is the guaranteed date at which your order is "guaranteed" to ship by. If you have a shipment or delivery date you need to receive by within that period (before the scheduled shipment date) you would need to purchase a RUSH My Order Service.

Everything is handmade as it is ordered regardless of quantity shown.

** If you have a deadline to meet and need our RUSH order service, please choose our RUSH ORDER Listing at the top of the page. Rush Order fees are non-refundable. Please read the details of the RUSH order process in the description. Then at checkout choose your shipping speed, 1st class is the default shipping speed at 2-5 business days; Priority 1-3 business days and Express which is overnight delivery by USPS. Please allow the correct time for your order to arrive.


DO NOT CHOOSE A Shipping Upgrade and expect to have the order rushed - shipping upgrades are for shipping only. Which means that it applies to the speed of shipping not to your order processing in a faster way.

Orders that are shipped on Friday or weekend days will be picked up by USPS on the next available business day. BBDD is not responsible for or how the USPS handles their packages and once the order or package is in the hands of USPS, BBDD has no responsibility.

By purchasing you are agreeing that you have read these policies, understand them and agree to the said policies of BigBlackDogDesigns.

**Large orders can take up to 5 weeks or longer to complete. Additional shipments or partial shipments can be made. Please contact me before purchasing. If you wish two shipments additional shipment payments must be made or the partial shipment will not be accommodated.
**Please allow for USPS delays in delivery of your orders. Due to Covid19 and other matters they are behind and overwhelmed. Once your package is picked up by USPS, I have no control over how or when they deliver. I am at their mercy just like you, the customer. I cannot call them or contact them to help with the delivery of your package. We do not accept returns or exchanges, under any circumstances due to Covid 19. If BBDD makes a mistake, we will fix that mistake at our expense. If the customer makes a mistake in ordering, our shop will not fix that problem, so please be careful and make sure you ordered correctly. If you do not order correctly, it is not BBDD's responsibility to fix the customer's mistake. No refunds will be granted in that situation. You are responsible for how you order, what you order and to provide the correct shipping address. BBDD does not change shipping addresses once the order has processed which is after 24 hours.



*Subject to change. BigBlackDogDesigns reserves the right the change the shipment date or any policies at any time due to volume of orders or other circumstances.
Returns & Exchanges
I gladly accept cancellations
Request a cancellation within: 24 hours of purchase
I don't accept returns or exchanges
But please contact me if you have any problems with your order.
Returns and exchange details
Hours: 8am-5pm Monday - Friday. Text ONLY "Kat" at 864-423-0932. Please leave a message any day of the week and we will get back to you by Etsy message, email or text message within 24 hours.

***Fabric Orders/no cancellations, returns or refunds on cut fabric. Once fabric is cut and shipped no refunds, or returns can be made.

ALL INFORMATION TO COMPLETE ALL ORDERS MUST BE ON THE ORDER ITSELF WHEN IT IS PLACED. There is a message or note field in the checkout screen when all information is to be placed. IF THE INFORMATION IS MISSING - BBDD WILL NOT GO THROUGH CONVERSATIONS TO FIND THE INFORMATION. IF YOU SEND A MESSAGE AFTER PURCHASE WITH NAMES FOR THE ORDER, A REFUND OR CANCELLATION OF THE ORDER WILL NO LONGER BE ELIGIBLE. If the names or if missing information is sent to BBDD after purchase no guarantee is given for accuracy. IT IS THE CUSTOMER'S RESPONSIBILITY TO PUT ANY AND ALL INFORMATION ON THE ORDER WHEN IT IS PLACED.


January 1, 2016 Policy Update: Cancellations are accepted for 3 business days after the order has been placed. After the 3 business days has passed, the customer can exchange the applique for something else or receive store credit. Customers are encouraged to read all policies before purchasing.

June 2019 Policy Update: BigBlackDogDesigns CANNOT accept orders without the correct shipping address. If the address is not corrected on the Customer's account, the order must be refunded and cancelled. Another order can be placed within 24 hours by the Customer and the shipping time table will be adjusted as a courtesy for the Customer. For more information or questions, contact Jess (Customer Service) through Etsy conversation or Text 864-423-0932 .


All Rush Order Fees are non-refundable. If a Rush Order is placed, and the order cancelled, the rush order fee or fees are non-refundable. Rush orders go into production immediately upon order placement, therefore no refund. If an RUSH order is incorrectly embroidered or damaged in shipment etc. the order will be refunded or adjusted as per customer request, however the rush order fee will not be refunded. All Rush Order fees are not refunded for any reason. All rush orders produced and shipped will cannot be returned. No exceptions.

No refunds on orders with discounted pricing, or free shipping and any sale items.

If notification of a delay in shipment has been made and the buyer does not contact BBDD within 3 days of that rescheduled notification, the order will not be refunded. If notification of some mistakes or problems with your order has been sent and the customer does not respond after 3 business days, the order will be completed but it will not be refunded or cancelled. No exceptions. Please see Additional Information section for additions to this policy.


If damage occurs, please accept our apologies for the inconvenience. BBDD will not accept damage claims after delivered merchandise has been in customers hands for more than 24 hours. Contact BBDD for damage claims. Proof of the defect must be photographed and if it is determined that the damage has been caused by BBDD, BBDD will replace or refund the order.

No refunds or returns on orders that have been customized with names or specialized colors or fabric changes only if damaged or a misspelled word was made by the store. No returns for custom colors, custom fabrics etc. It is up to the customer to completely explain how the personalized applique should be made. We do not call, text or email regarding names,fabrics and colors.

If a package/order is "refused" by customer and returned to BBDD, shipping costs cannot be refunded.

Orders are shipped to the address that the CUSTOMER inserts into the form when checking out. If you DO NOT enter the correct address you - the customer is responsible for the package loss and expense of shipping or any other costs involved with the order.

Customer is responsible to put all information into the Message field when checking out. If information is missing and the order is done incorrectly there will be no replacement or refund. If it is BBDD's fault we will replace the error asap.

By purchasing you are agreeing that you have read these policies, understand them and agree to the said policies of BigBlackDogDesigns.

Additional Information**Large orders can take 1-2 weeks longer than stated shipment timeline.

BigBlackDogDesigns may change shipment dates, close store or delay shipments for any reason, at any time.

No returns on hair clips, hair bows, bows, korker bows or felties.

BBDD is not responsible for how the customer applies the applique and is not responsible for the applique once it reaches the customer and is received by the customer. BBDD is not responsible for how the customer uses the product or what the customer does with the product. NO refunds, exchanges if the customer cannot iron on the product. Iron On appliques can always be liquid glued to the project. It is up to the customer to apply the applique.

Fabrics shown in samples may be replaced at any time, no notification will be made to customers and the information may or may not be added on the listings . Colors on the appliques shown will always be the same unless the customer requests Custom Colors.
Additional
Designs used are from these websites: Planet Applique, Embroidery Library, Designs by JUJU, Bunnycup Embroidery, Lynnie Pinnie Designs, TMM Market and EmbroiderQuilt, Embroider Boutique, Appliquecakes, Trendy Stitches, AppliqueMarket, Applique Frenzy, ACE Embroidery, Digi Dolls Embroidery, Zoey's Designs, Lion Designs, Five Star Fonts, Applique time, DB Embroidery, STitch On Time, Sweet Pea Designs, Shabby Chic Now, DivasDoodleDesign,Lots of Appliques,KiraLynn B, Heather Sue Frou Frou Designs, Applique Alley, Applique Creations, Cherry Stitch Designs, Just So Pretty, Applique Corner, Applique Momma, and Glizty Stitches, The Itch To Stitch, Stitch Away Applique, Creative Appliques, East Coast Applique, Beau Mitchell Boutique Appliques, Hang To Dry, Jazzy Zebra and BigBlackDogDesigns!

Designs or fabrics used have no association with other companies besides BigBlackDogDesigns.

All orders are shipped via the US Postal Service.

Instruction sheet on how to iron on the appliques is included with purchase. Washing instructions are also included. All appliques can be ironed onto any surface but Vinyl. For an additional hold, BBDD recommends stitching the applique after it has been ironed on and cooled off.

WARNING: Iron On process is for adults only. Please do not allow children to apply appliques or to play with the packaging materials. 8-10 seconds with a dry iron is all it takes to make your embellished garment.

Any order placed that does not include names, initials or monograms with the order will not have a monogram or initial given. Pictures are shown with initials, names or monograms, but if the customer does not put their own initial, name or monogram in the MESSAGE FIELD OR MESSAGE BOX in the checkout screen, the name, initial or monogram will not be included. BBDD will not contact the customer and ask for the name, initial or monogram and BBDD will not look through conversations to find that information.

Any applique that includes bows, rhinestones, or other embellishments should not be washed in a washing machine. These are delicate items and should be hand washed or dry cleaned for best results.

All photos or pictures in the Etsy store or on the Facebook Fan page are property of BBDD only. Any shop or boutique can the pictures or photos of the appliques only to sell their products providing they use BBDD appliques.

Appliques can not be sold individually but can be used on garments for re-sale and/or garments made for personal use.

BigBlackDogDesigns is also the owner of SewFastAppliques, a ready to ship FAST iron on appliques. All appliques in both stores are made by BigBlackDogDesigns. BigBlackDogDesigns is also owner of LazyLinkDesigns. LazyLinkDesigns is a handmade accessory store.
Privacy
To fulfil your order, you must provide me with certain information (which you authorized Etsy to provide to me), such as your name, email address, postal address, payment information, and the details of the product that you're ordering. You may also choose to provide me with additional personal information (for a custom order of jewelry, for example), if you contact me directly.

BigBlackDogDesigns WILL NOT communicate with anyone that is not named on the order. For instance, if Marilyn Doe purchased the order, Marilyn Doe is the only individual that will be given any information regarding the order. All communication must be with that individual. No information will be provided to any other individual unless proper authority is given as in legal documents which state that individual has the legal right to speak for the individual.
Etsy. I share information with Etsy as necessary to provide you my services and comply with my obligations under both the Etsy Seller Policy and Etsy Terms of Use.
Service providers. I engage certain trusted third parties to perform functions and provide services to my shop, such as delivery companies. I will share your personal information with these third parties, but only to the extent necessary to perform these services.
Business transfers. If I sell or merge my business, I may disclose your information as part of that transaction, only to the extent permitted by law.
Compliance with laws. I may collect, use, retain, and share your information if I have a good faith belief that it is reasonably necessary to: (a) respond to legal process or to government requests; (b) enforce my agreements, terms and policies; (c) prevent, investigate, and address fraud and other illegal activity, security, or technical issues; or (d) protect the rights, property, and safety of my customers, or others.
I retain your personal information only for as long as necessary to provide you with my services and as described in my Privacy Policy. However, I may also be required to retain this information to comply with my legal and regulatory obligations, to resolve disputes, and to enforce my agreements.
Once an order is completed any information that I have collected is shredded. The order information is kept on the Etsy database until my shop is closed. If you wish to delete all of your information please contact Etsy or me for further information.

I currently am not shipping to any EU country. I ship internationally to Canada and Australia.
Frequently Asked Questions
Custom and personalized orders
Please see policy section.